Regular price
Sale price
$22.00
Unit price
per
Sale
Sold out
100% high-quality pure beeswax melts from local U.S. beekeepers. The tarts come unscented or scented. Unscented is a single ingredient: 100% pure beeswax that naturally carries a lovely honey aroma. Scented melts contain only 2 ingredients: 100% pure beeswax and 100% pure essential oils to ensure a clean, non-toxic experience. 
Each melt is approximately 0.5 ounces and each pack comes with 8 melts. Approximate melt time is 10 hours per tart for a total of 80 hours per pack. Packaging is 100% recyclable. 
View full details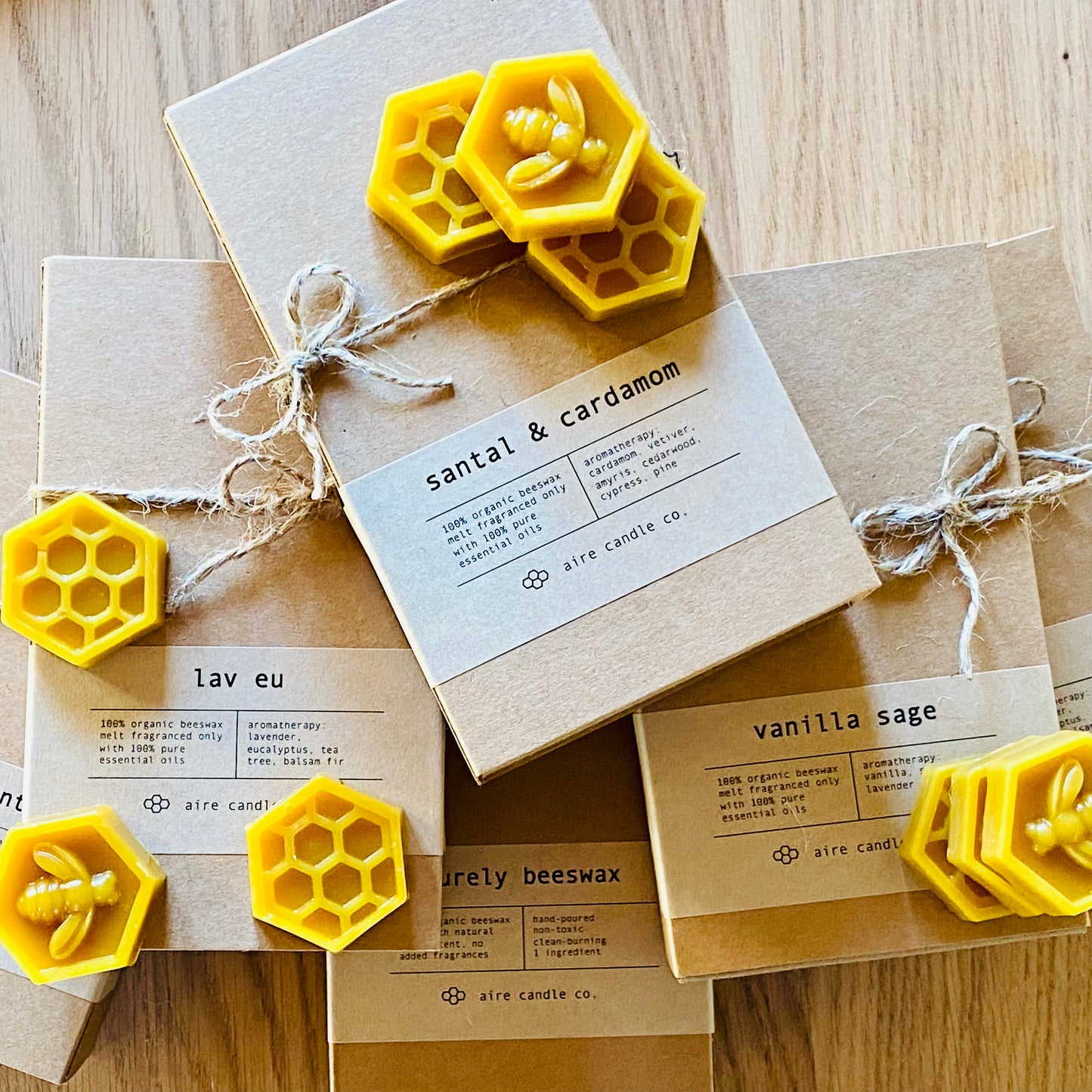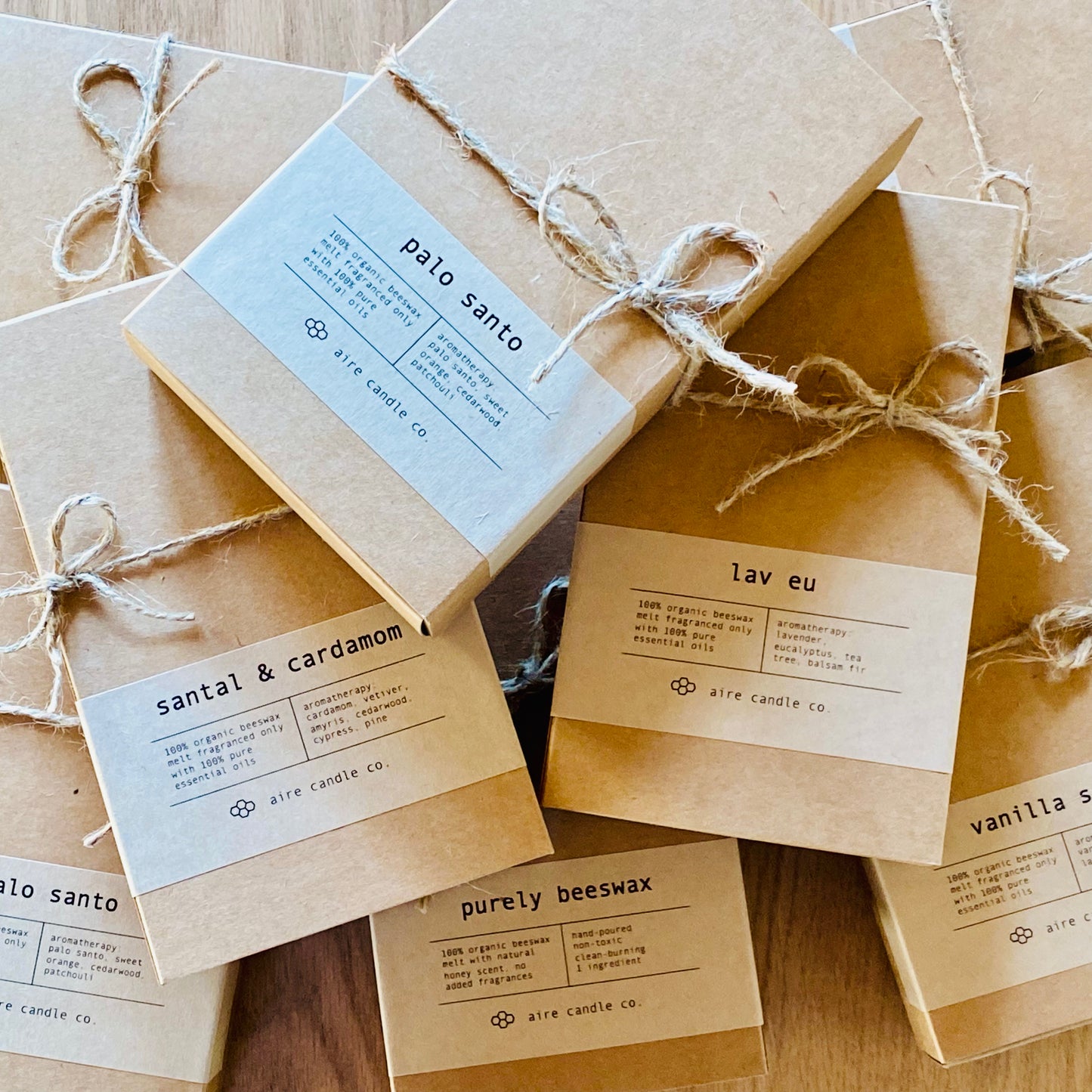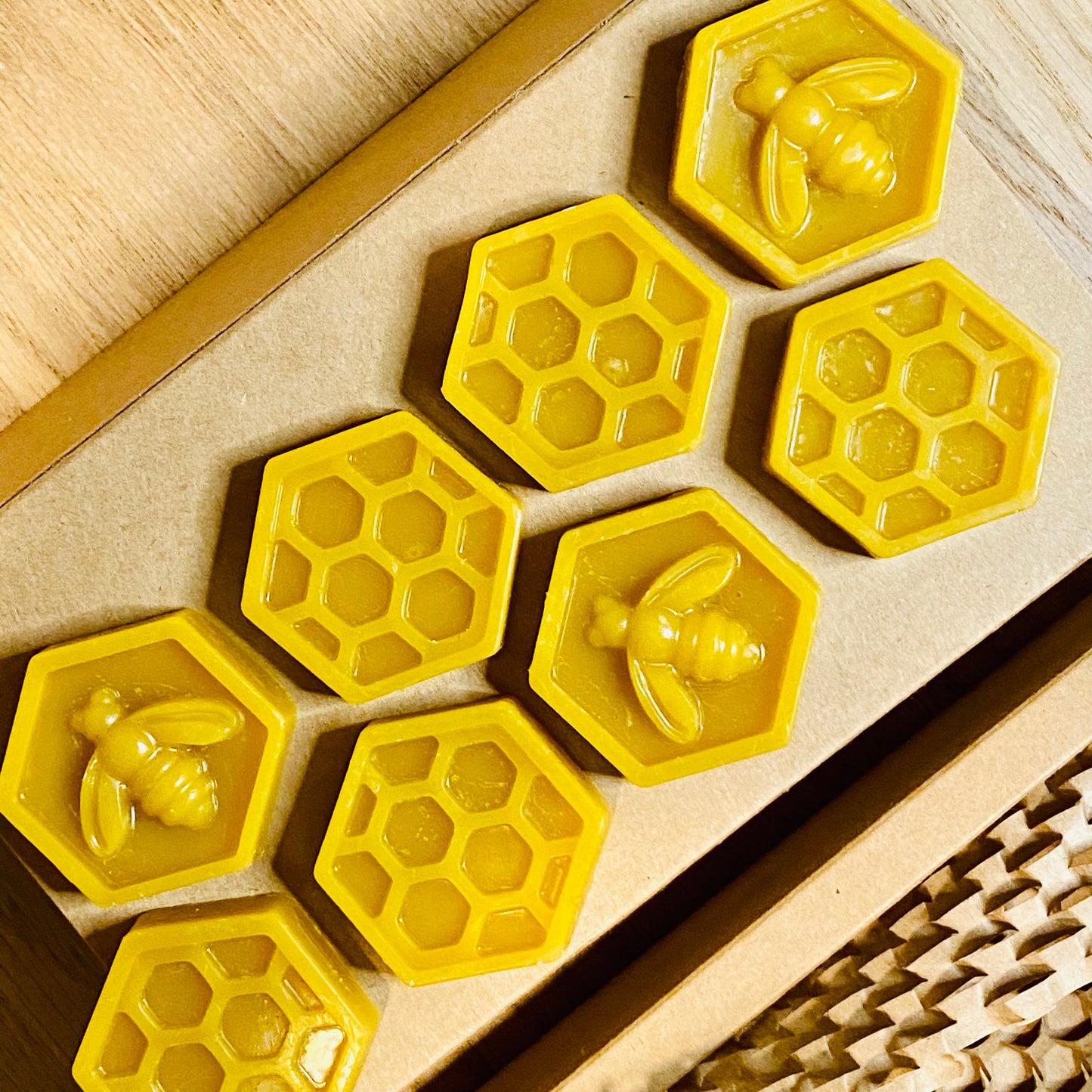 details
scent options

1. balsam fir: fir needle, cypress, nutmeg, orange. Smells like a Christmas tree and a walk in the woods.

2. lav eu: lavender, eucalyptus, balsam fir, tea tree. Calming, soothing aromas reminiscent of a spa.

3. palo santo: palo santo, cedarwood, patchouli, orange. Smells musky and sweet with real, rich palo santo oil. 

4. peppermint mocha: coffee, peppermint, vanilla. Warm, soft, subtle scent reminiscent of a vanilla latte, milk chocolate and Peppermint Patties.

5. pumpkin pie: orange, cinnamon, nutmeg, clove. Spicy, sweet and cozy: the epitome of autumn. 

6. purely beeswax: 100% pure beeswax, no added aromas. Smells like honey. 

7. santal & cardamom: amyris, cardamom, vetiver, pine, cedarwood, cypress. Smells like an intoxicating blend of cardamom and sandalwood. 

8. sugared lemon zest: lemon, vanilla. A clean, crisp scent of bright lemon, subtly highlighted with sweet notes of vanilla.

9. sweet tang: tangerine, grapefruit, geranium, spruce. Tangy, tropical and citrusy with a hint of floral.

10. vanilla sage: vanilla, sage, lavender, pine. Smells like sweet winter mint with a woody balsamic undertone.

11. wildflowers: ylang ylang, geranium, clary sage, lavender. Very floral, like a fresh bouquet of flowers. 
size

Each melt is approximately 0.5 ounces and each pack comes with 8 melts.
how to use

Simply pop the wax melt into the dish of your wax burner. If you're using an electric warmer, there should be a switch or button to turn it on. If you're using a tea light warmer, simply light your tea light and pop the tart into the designated hole below the dish.