Regular price
Sale price
$25.00
Unit price
per
Sale
Sold out
Ever wonder why you still get bug bites from citronella candles? It's because citronella is not an effective agent at repelling bugs. This bespoke 100% pure beeswax, non-toxic candle combines the following 100% pure, sustainably-sourced essential oils, each known to repel different insects:
Lemon Eucalyptus: most effective essential oil to repel mosquitoes
Lavender: effective at repelling mosquitos, flies, gnats, bed bugs, ants, lice, moths, spiders, ticks, fruit flies
Peppermint: repellent for fleas, spiders, ants, cockroaches, gnats, moths, wasps, stink bugs, aphids, bed bugs, fruit flies, boxelder bugs, head lice
Tea Tree: repels head lice, bed bugs, dust mites
Product Description
2 ingredients only: beeswax + essential oil blend
100% pure beeswax made from U.S. bees.
Natural cotton wicks.
8 or 16 oz amber glass jar with metal lid.
Burns up to 50 hours.
Free of dyes, fillers, oils, toxins, phthalates, sulfates, parabens, lead, soy, paraffin, synthetic fragrances, petroleum and cruelty.
View full details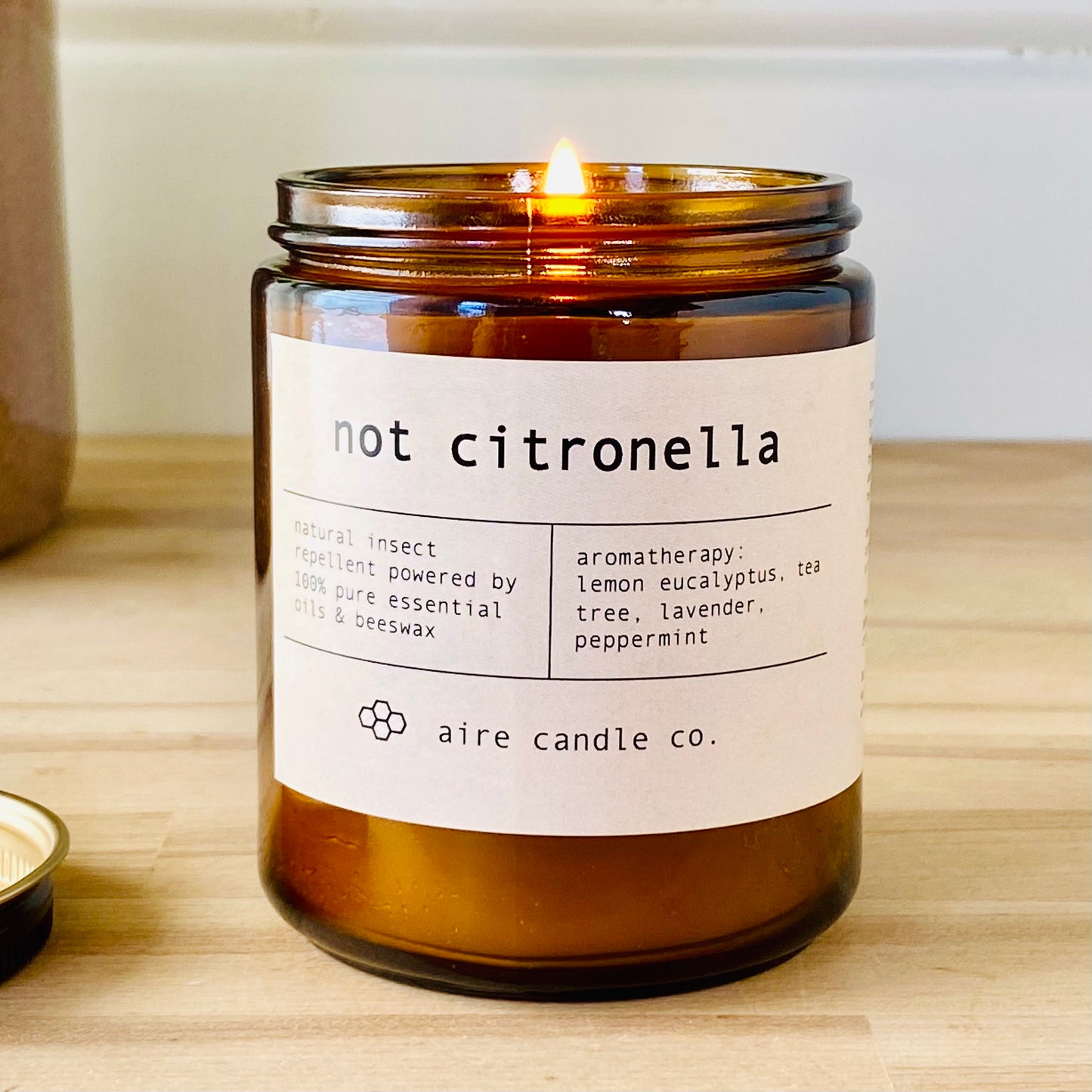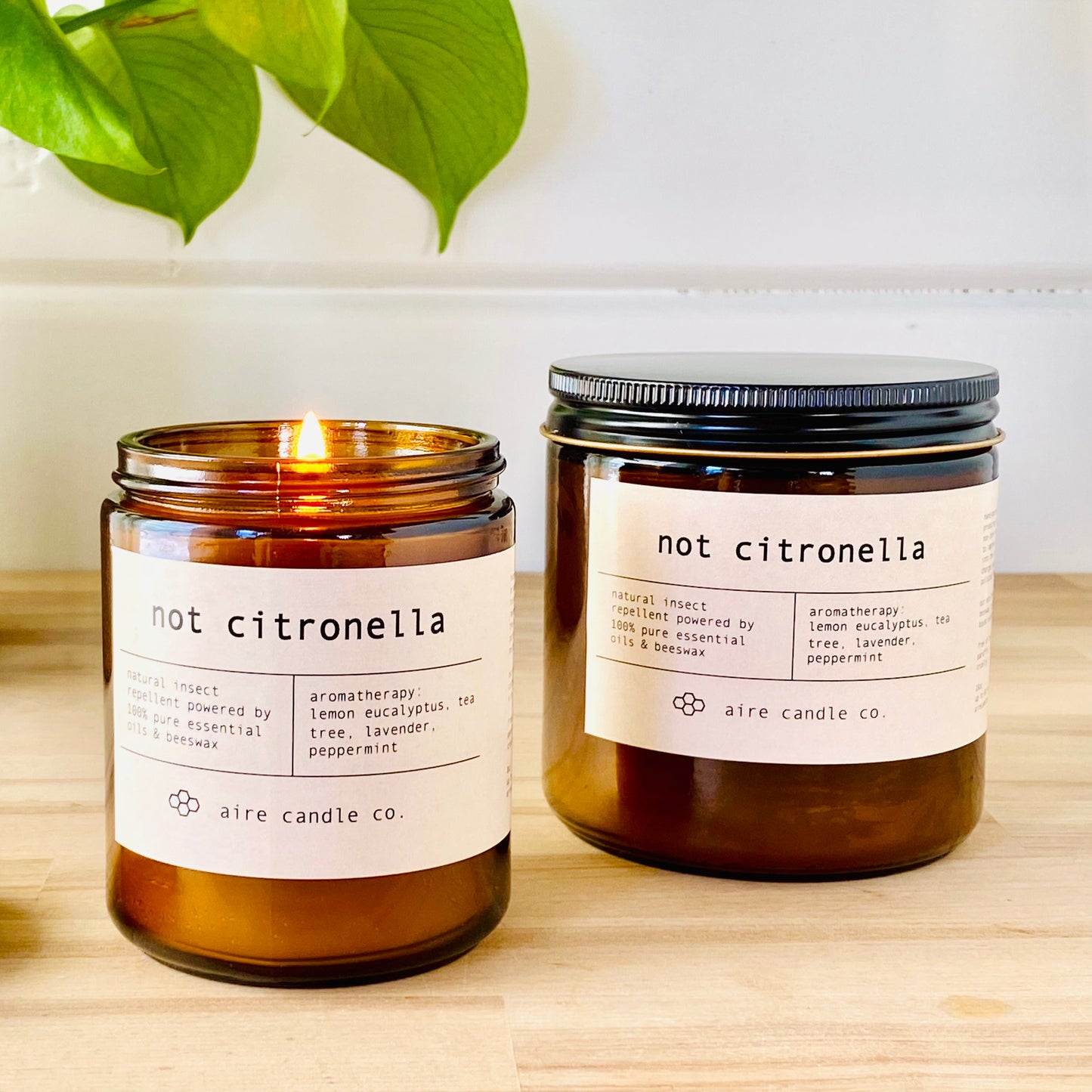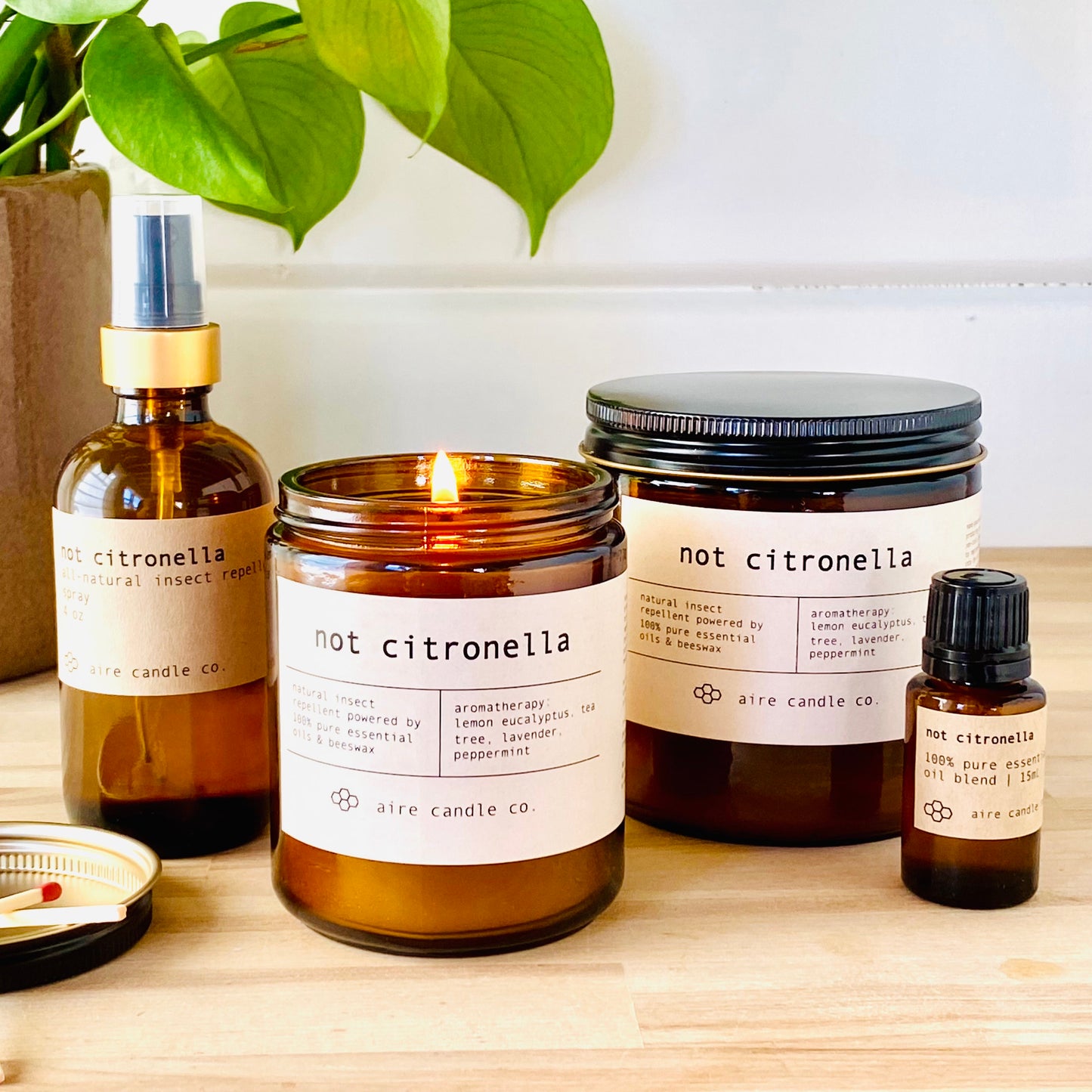 details
size

8 oz or 16 oz: this candle is made with an amber glass jar that measures approximately 3.5" in height and 3" in diameter (4"x 3.5" for 16 oz container). It burns for up to 60 hours. 
ingredients

Fragrance: 100% pure plant-based essential oils of lemon eucalyptus, lavender, peppermint and tea tree. No artificial fragrances.

Wax: 100% pure, locally-sourced American beeswax with no added fillers, oils, mixes, anything.

Wick: 100% natural cotton squaire-braided wick. Primed with natural beeswax. Lead-free, zinc-free.
how to use

please follow these steps to ensure proper usage and optimal candle logevity: 

trim your candle's wick to 1/4" 

before

 each lighting. Never attempt to trim a burning candle. Discard the snipped wick in the trash.
light the candle and allow the wax to melt to the edges of the container during each burn to prevent tunneling.
the wick should always remain centered and away from the sides of the vessel.
repurpose the beautiful amber glass jar! 

safety first:

don't burn your candle for more than 4 hours at a time.
stop burning your candle when only 1/4" of wax remains.
never leave a candle burning unattended, near a draft, or in reach of children or pets.
do not allow your wick to curl over, as this can create a larger than normal flame.
do not pick up a burning candle or immediately after it's been blown out.
protect the surface underneath the candle no matter the material.